Eating disorders are complex and challenging conditions that usually require a multidisciplinary approach to treatment. Regardless of the therapeutic approach and level of care, meal support can be an essential component of eating disorder recovery. Meal support can be beneficial for people of all ages with any eating disorder, including anorexia nervosa, atypical anorexia, bulimia nervosa, binge eating disorder, and ARFID.
What is Meal Support?
Meal support is pretty much what it sounds like: the support of a helpful person during meals. People with eating disorders struggle to eat enough to appropriately nourish themselves. Many are anxious about eating or about eating certain foods. When anxiety is high, a natural tendency is to avoid. However, recovery from an eating disorder requires eating regular meals with a broad range of foods. In the face of the high anxiety and persistent eating disorder thoughts that this food inspires, a person with an eating disorder can struggle to eat enough. Help during meals can make all the difference.
It cannot be emphasized enough that individual therapy alone, even with the inclusion of a weekly dietitian visit, is not usually sufficient to help a malnourished person with an eating disorder eat enough to regain the weight. Higher levels of care—including partial hospitalization programs (PHP) and residential treatment centers—exist largely for this reason. They provide regular meals and snacks daily amidst professionals and a supportive therapeutic milieu. Those recovering outside of higher levels of care can replicate this in the outpatient setting.
For teens and young adults, Family-Based Treatment (FBT) is a therapy that centralizes the role of meal support by parents in recovery. If you are a person who is open to support from caregivers, this treatment is optimal: a therapist provides psychoeducation and guidance to parents to support your recovery.
If you are an adult who is recovering outside of family support or FBT, you may want to seek additional meal support from friends or professionals. This can sometimes make all the difference in recovery.
How Can Meal Support Help?
Here are a few ways meal support can help with eating disorder recovery:
Establishing a Structured Eating Plan
One of the most challenging aspects of eating disorder recovery is the establishment of a regular and consistent eating pattern Eating disorders can disrupt hunger cues and cause fear and anxiety around food. Meal support can help establish a structured eating plan that involves regular meals and snacks, taking into account an individual's nutritional needs and preferences. Having a structured meal plan helps create a sense of predictability, reduces anxiety around mealtime, and helps regulate hunger and fullness cues.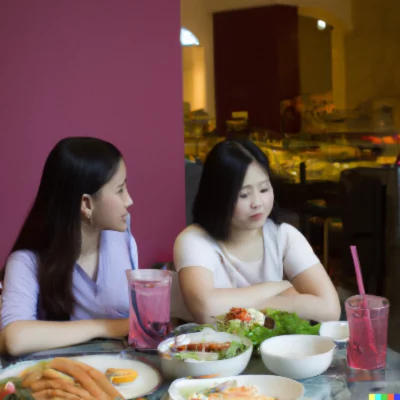 Overcoming Fear Foods and Food-Related Anxiety
Many individuals with eating disorders have specific foods that they fear or avoid. Support during meals can help individuals with eating disorders gradually expose themselves to these fear foods, in a safe and supportive environment. Over time, this exposure can help reduce anxiety and fear around food, expand the variety of foods that an individual is willing to eat and create a healthier relationship with food.
Providing Emotional Support
Having a support person present during meals can help individuals cope with anxiety, discomfort, or other negative emotions that arise around food. Having someone there to provide reassurance, encouragement, and guidance can help individuals build self-esteem, reduce shame and guilt, and increase their ability to eventually eat on their own.
Promoting Nutritional Restoration
Eating disorders can cause significant health issues including nutritional deficiencies, electrolyte imbalances, and gastrointestinal issues. Meal support helps individuals restore and maintain their nutritional status, ensuring that they receive the essential nutrients they need to promote physical and mental health.
Who Can Provide Meal Support?
Meal support can be provided by therapists, dietitians, recovery coaches, or other professionals or professionals in training. It can also be provided by friends and loved ones. It can be in-person or online. Fortunately, technology has made virtual meal support an easy and realistic option.
Guidelines for Meal Support
If you are providing meal support for a family member or friend with an eating disorder, here are some suggestions for how to do it.
When Supporting at Meals It's Best Not to:
Talk about calories, weights, or numbers
Talk about weight gain, the need for weight gain, or the eating disorder during meals
Talk about potentially triggering topics such as body, clothing, etc. If unsure, ask the person you're supporting what triggers to avoid
Have intense conversations
Say anything negative about any foods
Praise them too much—sometimes this can result in a backlash from the eating disorder
During Meals, It's Great To:
Remain calm
Be compassionate and understand that the person you are supporting is likely very anxious
Keep the person distracted from eating disorder thoughts and high anxiety by engaging in lighthearted conversation
Play games such as "Twenty Questions" or "Would You Rather" or watch a lighthearted show or video together
Ask the person if they need support after the meal when urges to purge or guilt may be very high. Be willing to help with distractions after the meal if needed
Provide gentle encouragement to keep going if the person stops eating or seems to be struggling to eat
Eat with them if you can
How Can I Find Meal Support for My Recovery?
Begin by asking your team—including therapists, doctors, and dietitians—if they provide or know people who provide meal support or meal coaching. You can also look online and find individual and group meal support for eating disorders. Finally, you can ask your friends and loved ones to cover a single meal or snack per week.
Many people struggle to ask for help, feel embarrassed or ashamed asking for meal support, and feel that they should be able to eat on their own. This is far from the truth. I like to remind people that if most people with eating disorders could eat adequately on their own, there wouldn't be a whole system of treatment centers providing residential and partial hospitalization programs, a large function of which is to provide meal support. You will likely be surprised how eager your friends and family will be to support your recovery.
In conclusion, meal support can be vital to eating disorder recovery, offering emotional support, structured eating plans, and nutritional restoration. Meal support can help individuals develop a healthy relationship with food, overcome fear foods, and manage anxiety and negative emotions around mealtime.
Get Help with Meal Support As Well As Eating Disorder Counseling in California
At Eating Disorder Therapy LA We have started offering weekly low-cost virtual meal support for adults with our graduate externs. Please contact us to learn more or visit our group registration page to check on current meal support groups. We also provide eating disorder therapy in our office in Los Angeles, as well as online to people in California. Reach out now to get started.

About the Author
Lauren Muhlheim, Psy.D., FAED, CEDS, is a licensed psychologist who specializes in eating disorders. She is a Fellow of the Academy for Eating Disorders (AED) and a Certified Eating Disorder Specialist (CEDS). Muhlheim is also an approved supervisor for the International Association of Eating Disorder Professionals (IAEDP). Dr. Muhlheim is the founder and director of Eating Disorder Therapy LA, located in Los Angeles, and is a certified specialist in FBT (Family-Based Treatment) for adolescent eating disorders. She is also the author of the book, "When Your Teen Has an Eating Disorder."
Previously, Dr. Muhlheim served as the Eating Disorder Expert for Verywell and has held leadership positions in several professional organizations including the AED, IAEDP LA Chapter, and the Los Angeles County Psychological Association. Additionally, she has served as an IAEDP core course instructor and provides training to mental health providers worldwide on eating disorders.