It's almost the first day of school and parents of students with eating disorders have additional concerns to address on top of the usual back-to-school frenzy. Transitions can be tough for all teens—they are especially difficult for those with eating disorders. However, there are some preparations you can make to help things go more smoothly.
Plan Ahead
If you have been supervising most meals your teen has been eating over the summer, the shift to a school day brings a significant change in schedule. A considerable portion of your teen's day will be spent at school. You may need to increase the size of the breakfast your teen will consume before a long day away from home. Practice the breakfasts you will plan to prepare during the school year. Also be mindful that there may be less time for breakfast when you have to get your teen out the door—to ease the transition, have them practice eating within a reasonable time.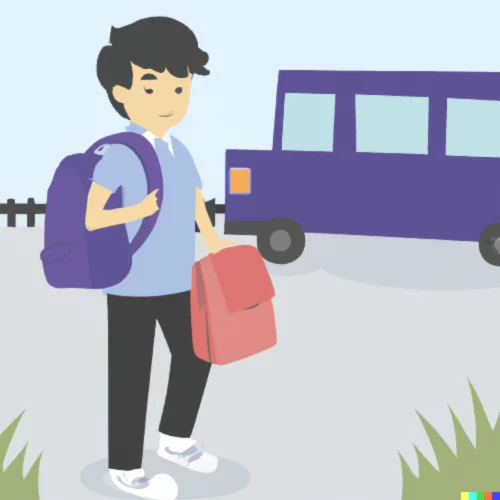 During the school day, your teen will typically need lunch and at least one snack. Now is the time to consider how you will handle these meals and snacks. If your teen is early in recovery it may be important for them to remain under the full supervision of parents for all meals and snacks. If this is the case, you should speak to the school staff now and make arrangements. Most schools will allow a parent to come and have the teen come out and eat lunch in the car and then go back in. Other parents make arrangements for a staff person at the school (favorite teacher, school nurse) to supervise lunch. You may need to do the same thing with a morning snack. You may even consider only sending your teen for part of the school day until meals are going more smoothly.
Discuss How to Handle Not Finishing
If your teen is able to eat a meal and or snack on their own, don't assume that doing so at school will be easy. Any change in location or schedule can increase the challenge for a teen with an eating disorder. I always suggest letting your teen know that if they can't finish what you've packed, they should pack it up and bring the remainder home. It is important for you to know what they couldn't finish so that you can add food later to make sure they don't end up with a deficient intake which could lead to relapse. Let them know they won't be in trouble!
Practice
Practice now with the foods you will send to school for lunch. If your teen is accustomed to hot lunches at home, have them practice eating the very foods you will pack in the school lunch to make sure they are comfortable eating those foods. I always suggest packing foods that are easiest for your teen to eat while being adequate nutritionally; save the fear foods for the meals they will be eating at home with you.
If your teen will be eating without supervision, discuss with whom they will eat. Do they have friends they feel most comfortable with? Even better if they have a friend who knows about their eating disorder and they can talk to ahead of time about making plans to eat lunch together. Encourage them to eat with friends who are good eaters.
If your teen will need to have restrictions from physical education, get a note from your treatment team and deliver it to their school.
Watch Closely
Finally, I suggest watching closely during times of transition. This means weighing your teen regularly to guard against a significant weight change. Sometimes you can hit a bump and catching a problem early can go a long way in preventing a serious decline.
Get More Help for A Child or Teen With an Eating Disorder
For more tips on handling your teen's meals at school, check out Dr. Muhlheim's book, When Your Teen Has an Eating Disorder.  Or reach out to us to learn how our therapists can help.